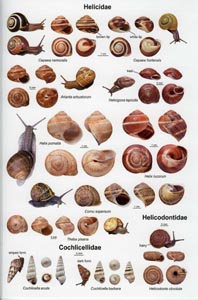 12-page illustrated guide to the land snails of the British Isles is produced as a zig-zag fold leaflet of slightly larger than A5 size (it is ca. 26 cm × 16 cm), and  laminated for field use.  The nine pages of colour illustrations give several views of each species (often including one of the living animal), and covers all known British and Irish species and 11 hothouse aliens; there are also three pages of introduction and general information. Provides a useful and affordable introduction to the British and Irish snail fauna. Buy now.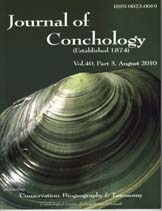 The Journal of Conchology is published by the Society twice a year and includes more scientific papers and short communications on molluscs. The contents cover, typically, descriptions of new species from anywhere in the world and reports concerning the ecology, distribution and status of molluscs. The Journal is not currently made available on-line though the index to recent issues can be viewed. Again, the publication is available free to members or can be purchased separately. Index to most recent volumes:
Index to older volumes is also available.
Short news items are periodically published on-line (and are also emailed to those registered with the site). These items are typically those that need to be circulated rapidly - not the more detailed articles that are published through Mollusc World.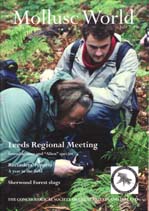 Mollusc World is the Society's full colour newsletter. Three issues are produced each year which are available free to members or can be purchased individually from the Society. Older issues (two years following publication) are gradually being made available on-line:
Periodically the Society produces 'special publications' that are produced in the same format as the Journal of Conchology but have a particular theme. Currently none of these publications are available in hardcopy but it is hoped to make them available as downloads..