Common species of molluscs frequently associated with lowland rivers in Britain.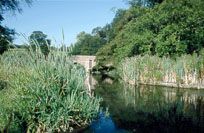 If the water is "hard", the gastropods most frequently found in this habitat are likely to include some of the following:–
Ancylus fluviatilis
Anisus vortex
Bathyomphalus contortus
Bithynia leachii
Hippeutis complanatus
Lymnaea fusca
Lymnaea stagnalis
Physa fontinalis
Physella acuta
Planorbarius corneus
Planorbis carinatus
Planorbis planorbis
Potamopyrgus antipodarum
Radix auricularia
Radix balthica
Theodoxus fluviatilis
Valvata cristata
Valvata piscinalis
Viviparus viviparus.
The bivalves occurring in lowland river habitats are likely to include some of the following:–
Anodonta anatina
Dreissena polymorpha
Pisidium amnicum
Pisidium casertanum
Pisidium henslowanum
Pisidium moitessierianum
Pisidium nitidum
Pisidium subtruncatum
Pisidium supinum
Sphaerium corneum
Sphaerium rivicola
Unio pictorum
Unio tumidus
In "soft" water the fauna will be significantly reduced from the above lists.