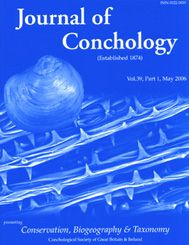 The Journal of Conchology is the world's oldest continuing publication on the subject. Published twice a year, it contains scientific papers  and short communications on molluscs with emphasis on promoting conservation, biogeography and taxonomy. The contents cover, typically, descriptions of new species from anywhere in the world and reports concerning the ecology,  distribution and status of molluscs.  Both living and fossil molluscs are dealt with.
In addition the Journal includes the official proceedings of the Society, obituaries and book reviews. Being a scientific publication papers are published only after review by referees. The Journal is subscribed to by learned institutions world-wide, and is a flagship publication for the Society. Members and non-members may submit contributions to the Honorary Editor.
Index to contents
The Society has now digitised the last thirty five years of abstracts of articles published in the Journal of Conchology. The indexes to the following volumes can be browsed on-line:
How to submit articles
Please see more detailed instructions for authors on how to submit articles to the Journal.