Extracted from Journal of Conchology, Volume 23, pp. 86–88.
Portrait of Fred Taylor, courtesy of Buxton Museum and Art Gallery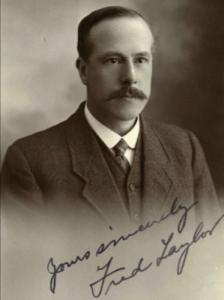 The death of Fred Taylor on 2 February removes from our midst one of the most ardent and genial conchologists of the Manchester school. He was born on 31 January 1871 and passed away peacefully at his Oldham home two days after attaining his 78th birthday. He was educated at the Derker Mills School run by the late Mr. Hilton Greaves, and from there went to work at the Derker Mills and later went to Messrs. Asa Lees, textile machinery makers, as an apprentice fitter.
Taylor joined the Society in 1895 but could never be persuaded to take office, though he acted as Recorder from 1907–1911. We often asked him to be nominated as Vice-President, but he always refused.
I first became acquainted with him in 1901 when I joined the Society, and during the succeeding years I learned a great deal from him about local shells. He was always ready to help anyone interested in the subject and was extremely generous with his duplicate material. We had many expeditions together to the local canals and other places in search of shells. His cleaning faculty was unique even with most tiresome and tiny forms. He was adept in finding rare and minute species and on one occasion in the 1890s, when at Douglas, Isle of Man, he called on his shell friends W. Moss and R. Cairns, who were staying at Peel. They hailed him with delight and said "Come with us to Whitestrand Bay as we are sure Acme lineata is in the valley, but we cannot find it." In less than ten minutes Taylor found it and it was not long before the others secured specimens.
Taylor's acquaintance with Moss and Cairns came about in a curious way. These two conchologists had discovered a pond near Ashton-under¬Lyne containing a large colony of white Planorbis corneus and were collecting them and using them for exchange purposes with friends. One day they found Taylor hunting for white Planorbis in what they considered an unknown preserve. This led to a mutual friendship with the budding conchologist, a close and intimate friendship which continued for many years. During the last months of Cairn's illness Taylor paid frequent visits and helped to soothe and comfort him at a time when Taylor had suffered the grevious loss of one of his own children.
Taylor was intimate with the old Manchester school of conchologists, C. Oldham, R. Standen, E. Collier, B. R. Lucas and others, and was always welcome at the meetings held at the Manchester Museum. His first exhibit was in 1892 (before he was a member) when be showed shells from new localities at Oldham. In the previous year Levi Tetlow had recorded a number of freshwater species from Park Bridge in the Journ. Oldham Micro. and Field Club, and in earlier years R. Cairns had recorded shells from the canals at Bardslev and Reddish in the same Journal. Taylor made frequent exhibits at subsequent meetings and these included the first record of Hydrobia jenkinsi var. carinata from the canal at Bardsley (1899) and sinistral Viviparus viviparus from the same canal (1902). He read his first paper in 1897 dealing with the local Mollusca, some fifty-eight species being recorded (J. Conchol. 9, 1898, 49-53). A further paper by him on Hydrobia jenkinsi at Droylsden appeared in 1900. In 1902 he contributed a paper on "Fluviatile Shells" to Science Gossip. This dealt with Physa heterostropha and Planorbis dilatatus in the canal at Guide Bridge, both found by him and W. J. Guy in 1900. Reports on one to Bardsley in 1903 and another to Droylsden in 1904. These rambles were always highly instructive with such a leader.
It was on 28 April 1900 that Taylor made a discovery that will always be associated with his name. His sharp eyes had detected a tiny freshwater operculate snail in the canal near Fairfield Locks, Droylsden, Lancashire. This was a form unknown to him and he submitted specimens to E. A. Smith at the British Museum (Natural History) who named the shell in his honour Paludestrina taylori. Later on, after considerable study by Taylor and myself, we published a joint paper in the Journal for 1904 on the habits and reproduction of the species. At that time we were in communication with E. von Martens and submitted specimens to him asking his opinion on the close resemblance between P. taylori and his Hydrobia steinii. He considered them to be quite distinct. Our own studies of American forms had led us to the conclusion that P. taylori really belonged to the genus Amnicola. Further research in 1936 by Dr. C. C. van Regteren Altena, of Amsterdam, proved that taylori was identical with steinii as we at first suspected, but it was found by the same authority that steinii did not belong to Hydrobia, Bythinella, or Amnicola, but to a new genus which he called Marstoniopsis. In a living state, outside our country, the species occurs in Holland, Germany, Poland, Latvia, Denmark and Sweden. It is reported fossil from the Cromerian of West Runton and from the Holocene of Kalundborg and near Rostock.
In July 1904, on Taylor's invitation, I took Fred Booth, of Saltaire, to see an exhibition at the Oldham Art Gallery. There we met J. Whitehead of Stalybridge (cryptogamic botanist) and J. Pulfer (geologist) among other naturalists. Taylor gave a short informative address on his fine and complete collection of British non-marine shells presented by him to the town in 1898.
In December 1914 Taylor gave a lecture to the Oldham Microscopical Society on "Local Freshwater Shells" adding much further information to his earlier 1897 paper. He was an honorary member of that Society as well as a founder member of the Oldham Natural History Society.
In the Lancashire and Cheshire Naturalist for October 1917 (pp. 214—5) Taylor published a most interesting paper on Planorbis dilatatus and Physa heterostropha in the Oldham district, giving observations on water temperature and other matters. In February 1918 he showed me with great delight a sinistral specimen of M. steinii (= taylori) he had discovered in the Reddish canal. Later that year he conducted members of the Lancashire and Cheshire Fauna Committee on a ramble to Bardsley and Riversdale. He was an active member of that Committee and of the North East Lancashire Naturalists' Union and the United Field Naturalists' Society, of which he was President in 1918–19, referee in Mollusca and birds, and was elected honorary member in 1948.
In 1921 he worked assiduously at a refuse-tip at Oakwood Mill, Romiley, Cheshire, and obtained a series of interesting molluscs, including some unusually large and richly coloured specimens of Oxychilus rogersi. He contributed a short but interesting detailed note on his finds to the Lancashire and Cheshire Naturalist of that year. In that same year he presented to the Oldham Museum a fine collection of exotic shells acquired by means of exchange of British specimens.
Taylor did not confine himself to localities near his home but travelled far and wide in search of shells. He visited Tenby, Cranham Woods, Wicken Fen and various places in Cornwall and Devon in order to obtain rare or local species. He always returned with plenty of good material and lavishly distributed duplicates among his friends. One of his most distant journeys was to West Sutherland where, in June 1939, be trailed up to Loch Fleodoch Coire to collect and study an extremely local fresh-water snail.
Taylor acquired many reversed shells in the course of his collecting: they included Helix pomatia, H. aspersa, Hygromia striolata, Cochlicella acuta and Oxychilus draparnaldi, in addition to those previously mentioned. He was always on the look-out for snails imported with fruit. In December 1936 be exhibited at one of our meetings two specimens of the Jamaican land shell, Thelidomus aspera (F.), taken alive in bananas at Oldham.
Our departed friend was interested in many other things besides conchology. He was an authority on British birds and often lectured on them. He spent many hours with jovial companions in the field studying their habits and made excursions far afield. His close companion for over thirty-five years, John Armitage, has contributed a eulogy to the Oldham Chronicle (19, 26 February and 5 March) on these activities and I am indebted to him for several details regarding his life. Taylor's own collection of eggs of British breeding birds is said to be one of the finest in the country. It was supplemented with historic sets of eggs of rare birds acquired from other private collectors and was housed in a handsome 34 drawer cabinet designed and constructed by Taylor and his son Hubert. It was purchased by the Oldham Libraries Committee in 1931 and is available for study and inspection at the Study Centre, Werneth Park, Oldham. Taylor was acknowledged as an authority on the merlin and many other birds of the hills, and some years ago be was unanimously elected honorary member of the Jourdain Society, a body of expert ornithologists and oölogists in London.
J. WILFRID JACKSON
[
Editorial Note
: an article entitled 
"The 'Lost' Collections of Fred Taylor of Oldham"
by Brian Goodwin is available in
Mollusc World
, issue 39, published November 2015.]