By June Chatfield
Extracted from Journal of Conchology, Volume 34, pp.337–338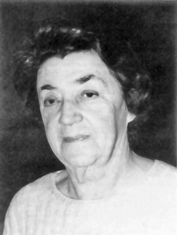 Dr Vera Fretter's name is well known as co-author of British Prosobranch Molluscs (written with Professor A. Graham) and published by The Ray Society in 1962. This is a much valued reference source amongst mollusc specialists and zoologists generally. She joined the Conchological Society of Great Britain and Ireland in 1966 and although she did not attend meetings or publish in the Journal, members of the Society seriously interested in marine prosobranchs had frequent cause to be grateful to her for opinions on specimens and encouragement in their research.
Dr Fretter died at her home in Purley near Reading on 15 October 1992 at the age of 86; obituaries have already appeared in The Independent (12 November 1992) and the University of Reading Bulletin No 258, December 1992, both written by her colleague in the Zoology Department, Professor Alastair Graham.
Those of us who knew Dr Fretter and had the privilege of working with her in the University of Reading, will remember her as a first-rate teacher – full of enthusiasm and presenting her material in a lively and enjoyable way. Having "done" Mytilus, or whatever animal, with Dr Fretter was to know it inside out as she provided both a firm framework for knowledge and precise detail. She always believed in the importance of practical work, in learning from first hand experience, making your own accurate observations on the specimens and when in dispute with a book, pointing out that "the animal is always right." Teaching was seen as a learning process too, and when a research student tried to get out of demonstrating a particular practical on the grounds of lack of knowledge of the animals covered, this was invariably unsuccessful and Dr Fretter would retort that "the best way to learn something was to teach it." The foundations for Dr Fretter's standing as a teacher were laid early on.
She was brought up in Plumstead in London and went on to train at Furzedown College and thence to teach in a primary school in a poor area of south-east London. During her teacher training she was attracted to both natural history and art, and indeed in her later career the drawing ability was extensively used and became almost a hallmark of her publications, as well as on the blackboard in the classroom situation. She was encouraged by an HMI to undertake further training and whilst teaching in school, studied for a zoology degree in the evenings at Birkbeck College where she obtained a first class B.Sc. This led to the continuation of her studies full-time and a doctorate in 1936. Dr Fretter's university career was at Royal Holloway College, Birkbeck College (University of London) and the University of Reading, from 1954.
Dr Fretter was an active researcher of international reputation whose painstaking work added much to our knowledge and understanding of the function and structure of prosobranch molluscs through her many publications. Functional morphology was the theme of the Reading malacology school. She was also interested in the pelagic larval stages and to obtain live plankton samples, she worked at marine laboratories both in Britain and overseas. The quality of her research was soon recognised by the post of Reader in the Zoology Department at Reading.
Another most important influence which Dr Fretter had was as supervisor of many research students working for masters and doctorates, of whom the writer was one. Some of them came from distant parts of the world to work under Dr Fretter for a higher degree and she went out of her way to make them welcome and help them to settle to life in Reading and cope with their language difficulties.
Although she officially retired from the University in 1970, she kept on a research room in the Department of Zoology and was active to the end, with her own work on prosobranch molluscs and in helping and advising others. Together with Professor Graham with whom she had collaborated for many years, British Prosobranch Molluscs was substantially revised, some chapters re-written and one of her last tasks was the correction of the proofs. Sadly she did not live to see its publication.
Dr Fretter was a person who enjoyed life – her work was always a source of immense pleasure and she also took delight in travelling and visited many parts of the world and had a wide network of malacological friends. For relaxation she enjoyed gardening, and Dr Alison Kay from Honolulu recalls how Dr Fretter immediately pitched in to help in her garden in Honolulu when she was staying. Dr Fretter always had time for, and a great interest in, people and eagerly received news of her old students.
At a time when the more traditional aspects of zoology have often been displaced, Dr Fretter will be missed for her particular vision of the zoological world.
Use is acknowledged of factual data from Professor Graham's obituaries.