Reference
"Shells" by A.J. Dezallier d'Argenville.
Taschen 2009 ISBN978-3-8365-1111-7 216pp A4 Hardback. £24.99
Review source
Mollusc World Issue 23, page 27.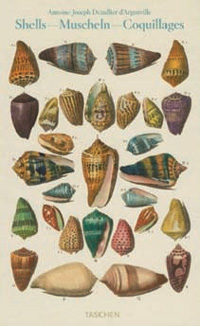 The "Conchyliologie" of d'Argenville is one of the great 'classics' of Conchological literature. First published in 1742 with revised and expanded editions in 1757 and 1780, copies of the original works fetch thousands of pounds. This volume provides us with all 80 plates from the 1780 edition – originally printed in black and white but here reproduced superbly from one of the rare hand-coloured copies.
Accompanying the plates we are provided with biographical information about d'Argenville and a review of his publications, together with a short survey on "Books and Shell Collecting in the modern age" (up to c. 1810) and an introduction to "The Fascination of Shells in Art". All these introductory sections are trilingual, being printed in English, German and French. The introductory sections, written by Veronica Carpiti, are interspersed with a selection of 'art' illustrations, some familiar, some not. I loved the 1440 illuminated manuscript depicting St. Ambrosius surrounded with a border of mussels – both shells and the cooked animals. These introductory sections are excellent, albeit brief, though it is surprising to find the Conchyliologie's author referred to throughout as "Dezallier d'Argenville", all Conchological references I have checked use d'Argenville/Argenville and I hope this does not cause confusion.
The plates cover marine, land, freshwater and fossil shells, together with sea urchins and barnacles – thought to be related to Molluscs at the time. Some plates include living or dissected animals, and d'Argenville was prescient in including a few slugs which Linnaeus and others linked to worms rather than molluscs. Captions for the plates give scientific names plus English, German and French common names for a limited number of the "best-known species" only, sometimes as few as two or three names for a plate with thirty figures. This is a pity, even though this is not going to be used as an identification guide, for it is easily possible to identify hundreds of additional species present.
Additional brief text sections by Ranier Willmann (again trilingual) discuss "The scientific importance of Dezallier d'Argenville's Conchyliologie" and "Zoological Nomenclature in Dezallier d'Argenville and Linnaeus". It is surprising to find reference in the former to "the Noble Pen Shell, which is common in the Mediterranean" for this is a "European Protected Species". The latter section, though very usefully indicates those illustrations in d'Argenville cited by Linnaeus and which may be considered as type figures for Linnaean species. Finally there is a two page bibliography.
This is a fascinating volume. To have the plates from such an important Conchological work readily available, even without their original text, is very welcome. It is challenging to look at them and endeavour to provide modern names to the species figured. For anyone interested in the history of conchology, or shells in art this is a mustbuy, and compared to modern photographically illustrated identification guides, well worth the modest price. It can be highly recommended.