The Journal of Conchology (JoC) is the world's oldest continuing publication on the subject. Published twice a year, it contains scientific papers and short communications on molluscs with emphasis on promoting conservation, biogeography and taxonomy. The contents cover, typically, descriptions of new species from anywhere in the world and reports concerning the ecology, distribution and status of molluscs. Both living and fossil molluscs are dealt with.
In addition the Journal includes the official proceedings of the Society, obituaries and book reviews. Being a scientific publication papers are published only after review by referees. The Journal is subscribed to by learned institutions world-wide, and is a flagship publication for the Society. Members and non-members may submit contributions to the Honorary Editor. Here are detailed instructions for authors on how to submit articles to the Journal.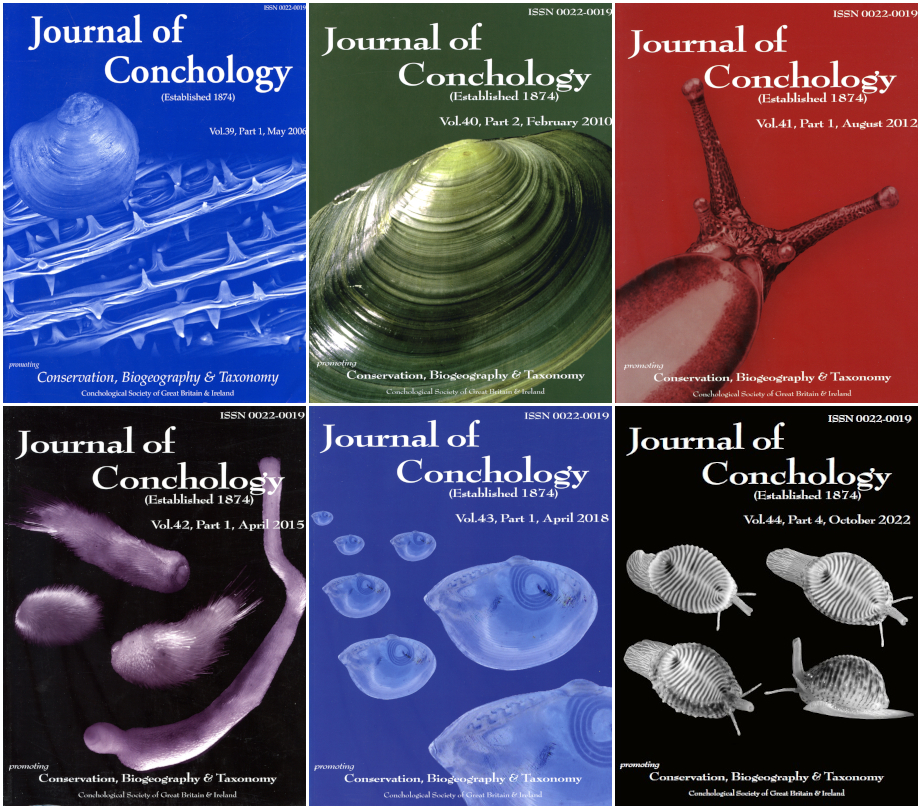 To further the objectives of the Society from 2023 the JoC will be a fully Open Access Journal and from 2024 it will be digital only. This page of our website will be the gateway to current and past issues of the journal (from Vol. 39 to the present day). We hope to make steady progress with respect to back-populating it over time (but bear with us as this process may take some time!). Please feel free to browse, bookmark or download as you wish and do come back and visit this space periodically to check on the growing availability of what we trust will be a valuable resource to all those interested in molluscs.
2022: October, Vol. 44, Part 4 / April, Vol. 44, Part 3
2021: October, Vol. 44, Part 2 / April, Vol. 44, Part 1
2006: November, Vol. 39, Part 2 / May, Vol. 39, Part 1
---
Index to contents
This content, generated historically, was a stepping stone to the digital sharing options now available. It will remain in place for now, but as the full content of past issues becomes available it will slowly be subsumed by the process described above.
The Society added abstracts of articles published in the Journal of Conchology to the website. Indexes to the following volumes can be browsed by clicking on the links provided:
How to submit articles
Please see more detailed instructions for authors on how to submit articles to the Journal.