The Society produces a range of publications. Two of these are available free to members (Journal of Conchology and Mollusc World) while special publications are available to members at a reduced rate. Alternatively, many of back issues are available for purchase directly (subject to availability).
Journal of Conchology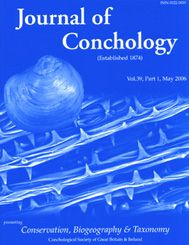 The Journal of Conchology is the world's oldest continuing publication on the subject. Published twice a year, it contains scientific papers  and short communications on molluscs with emphasis on promoting conservation, biogeography and taxonomy. The contents cover, typically, descriptions of new species from anywhere in the world and reports concerning the ecology,  distribution and status of molluscs.  Both living and fossil molluscs are dealt with.
In addition the Journal includes the official proceedings of the Society, obituaries and book reviews. Being a scientific publication papers are published only after review by referees. The Journal is subscribed to by learned institutions world-wide, and is a flagship publication for the Society. Members and non-members may submit contributions to the Honorary Editor.
Mollusc World
Mollusc World is the full colour magazine of the Conchological Society and covers slugs, snails, shells and anything of a molluscan nature which is of interest to members. The first issue was published in March 2003 and replaced the Newsletter; there are normally three issues a year. Full members of the Society  receive Mollusc World free of charge.