Open Access (OA)
From 2024 the Journal of Conchology will be fully OA and digital only. You'll be able to download a PDF of any article of interest to you from our website! This edition of the journal was the first to be uploaded to our website at the start of this process. Just click on the papers title for the PDF (high resolution versions also available):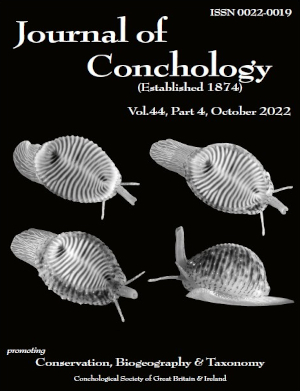 ---
The terrestrial malacofauna of the southeast – central Aegean islets
Mylonas, M. & Vardinoyannis, K.
Abstract
This paper studies the taxonomy, distribution and biogeographic relations of the terrestrial malacofauna on 19 islets lying in the Southeast – Central Aegean. The isolation of these islets has attracted the interest of many malacologists since the 19th century, and a total of 20 species of land snails, including seven endemics, were listed. The authors studied the malacological collections in the Natural History Museum of Crete deriving from four recent scientific expeditions to the above islets. A total of 35 species were found. Syrna, the largest islet in the group, is inhabited by 25 species. The taxonomic status and peculiarities of 14 species (Eobania vermiculata, Helix cincta, H. pronuba, Helix sp., Maltzanella godetiana, Xerocrassa ingens, Metafruticicola coartata, Mastus etuberculatus, M. unius, Orculella ignorata, Albinaria brevicollis and Lauria cylindracea) are discussed. The zoogeography of the islets is consistent with the paleogeography of the mid-Pleistocene. Biogeographically speaking they are closer to the Cyclades, though there is evidence arguing for the existence of isolated clusters of islets rather than one unique group.
Key words: Southeast – central Aegean Islets, terrestrial gastropods, taxonomy, distribution, biogeography.
---
Two new Moellendorffia species and one new Trichelix species (Gastropoda, Eupulmonata, Camaenidae) from southern China
Lin, Ran-Xi & Lin, Li-Wen
Abstract
Two new Moellendorffia species from Guangxi Zhuang Autonomous Region, China, Moellendorffia kuguaheshang sp. nov. [苦僧多粒螺] and Moellendorffia qinglongi sp. nov. [清龙多粒螺], along with one new Trichelix species from Hunan Province, China, Trichelix xiaoxiang sp. nov. [潇湘绒粒螺], are described and photographed in this paper. Illustrations of the new species and SEM micrographs of the protoconch of Moellendorffia kuguaheshang sp. nov. are provided.
Key words: South China, taxonomy, new species, systematics.
---
A new species of Endothyrella Zilch, 1960 from Nepal (Gastropoda: Stylommatophora: Plectopylidae)*
Páll-Gergely, B. & Grego, J.
Abstract
A new species of Plectopylidae, Endothyrella prembudhai n. sp. is described from the Tinjura Dara mountain range in eastern Nepal. The new species is known from the holotype only, but its conchological characters clearly differ from all congeners reported from Nepal and Bhutan. A new locality of Endothyrella nepalica Budha & Páll-Gergely, 2015 is also published.
Key words: Taxonomy, systematics, shell, Himalaya
*Results of the Himalaya Expeditions of J. Martens, 1969–2004, No. 293. Jochen Martens was sponsored by DAAD and DFG.
---
The mites Riccardoella limacum (Schrank, 1776) and R. oudemansi Thor, 1932 (Trombidiformes: Ereynetidae) parasitic on molluscs at St Nicholas Fields, York
Thomas, J. V. & Buckton, S. J.
Abstract
We report on the recent finding of the mite Riccardoella limacum (Schrank, 1776) (Acari: Trombidiformes: Ereynetidae) parasitic on a garden snail Cornu aspersum (O. F. Müller, 1774) and R. oudemansi Thor, 1932 on numerous slug and snail species, and observations of the ecology of both species, at St Nicholas Fields, a small urban nature reserve in York, England. There has been much discussion historically about the identities of R. limacum and R. oudemansi, with many records of the former from slugs being misidentifications of R. oudemansi. We draw attention to accurate records of R. limacum from Menai Bridge, Cardiff and Devon made by Fiona Jane Graham during her PhD research (Graham, 1994). R. limacum is therefore clearly a good British species.
Key words: Riccardoella limacum, Riccardoella oudemansi, new records, Mollusca, Gastropoda, Britain, Wales
---
Morpho–anatomical characterization of the urogenital Schistosomiasis vector Bulinus truncatus (Audouin, 1827) (Heterobranchia: Bulinidae) from southwestern Europe
Martínez–Ortí, A., Adam, S., Garippa, G., Boissier, J., Bargues, M. D. & Mas–Coma, S.
Abstract
Urogenital Schistosomiasis has been present naturally in the South of Europe since the beginning of the 20th century and nowadays its presence is also known, at least imported by Sub-Saharan emigrants and tourists, in France, Italy, Portugal and Spain. One of the intermediate hosts of this trematode present in Europe is the bulinid mollusc Bulinus truncatus, non–native species that can be reached to Europe by humans and birds. In order to know this mollusc better, we carried out a morpho–anatomical study, of the shell, the reproductive system, radula, the respiratory organs and pseudobranch of several populations from Italy, France and Spain. Spanish conchological material studied comes from different populations, from material deposited in the "Museo Nacional de Ciencias Naturales" of Madrid and the "Museu de Ciències Naturals" of Barcelona, as well as from its own material deposited in the "Museu Valencià d'Història Natural" of Alginet (Valencia). The shell growth in captivity and the estimation of the population age of B. truncatus from El Ejido (Almería, Spain), has also been studied. Finally, the finding of aphallic and euphallic specimens in the different populations of southern Europe studied is presented and taxonomic and ecological data of the genus Bulinus are shown.
Key words: Bulinus truncatus, Bulinidae, urogenital Schistosomiasis, morpho–anatomy, South Europe.
---
Planorboid shell in subterranean gastropods (Caenogastropoda: Truncatelloidea): shell ancient geometry as selective factor
Falniowski, A
Abstract
Planispiral or nearly planispiral (extremely low spire) planorboid shells, common in the Palaeozoic, became extremely rare during the Mesozoic Revolution, eliminated by shell crushing predators. Among subterranean Caenogastropoda the planorboid shells are much more common than among the epigean ones. Hydrodynamics of the planorboid vs turbospiral shells is briefly discussed, as well as the consequences of the shell form determining the shape and size of the foot. The latter must be effective enough to prevent dislodgment by the water current. The costs of the shell formation of planorboid vs turbospiral shell is estimated as being higher for the planorboid one. No superiority in any respect of the planorboid shells has been found. Considering the fossil record, planorboid shell is considered as a plesiomorphy, gained in the Recent malacofauna several times by reversals, and not eliminated in subterranean habitats characterized by low predatory pressure. The planorboid shell, with wide umbilicus, is not adapted for the quasi-infaunal mode of life interstitially, being unable to move efficiently in narrow spaces, and its thin shell is prone to damage by predatory subterranean vertebrates, which prevents their passive transportation. This results in high endemism, with extremely narrow ranges of the species with planorboid shells, in comparison with the turbospiral ones.
Key words: Stygobiont, planispiral, turbospiral, predation, dispersal, plesiomorphy, endemism
---
Drusia (Drusia) ibera (Eichwald, 1841) (Gastropoda: Parmacellidae), the first records of a terrestrial slug in Turkey
Ekin, I & Sesen, R.
Abstract
The rare species Drusia (Drusia) ibera (Eichwald, 1841) (Gastropoda, Pulmonata, Parmacellidae) is reported for the first time in Turkey (Diyarbakır). Specimens studied have large, rough skin and a large granular, banded mantle with a large pneumostoma on the right of the posterior part. The body length of well-developed adults is between 10 and 12cm. The general body tone is light olive-brown (grayish with brownish hue); the large mantle has spots and conspicuous bands that converge toward the end of the mantle. One specimen was dissected for its genitalia to confirm the identity of the species. Other records of Parmacellidae from Turkey, recently posted on iNaturalist, also appear to belong to this species. The study aims to reveal the presence of D. (D.) ibera in Turkey and contribute to the Turkish slug checklist. This record brings the total of terrestrial slug species in Turkey to 49, and most are distributed in the North Anatolia region.
Key words: Slug, Parmacellidae, Drusia (Drusia) ibera, new record, Turkey
---
Fossil Pupilloidea land snails from the Borgloon formation (early Oligocene, Belgium)
Salvador, R. B., Locatelli, C. & Lenaerts, J.
Abstract
Pupilloidea is a diverse group of land snails, most of which are of minute size. Because of that, Paleogene pupilloid fossils are often overlooked and scarcely studied, partly because of a historical collection bias against small-sized fossils and partly due to the preservation bias against their fragile shells. The Borgloon Formation in Belgium (Rupelian, Early Oligocene), despite well-studied, still lacks proper identifications for most of its pupilloid snails. Herein, we present a reassessment and taxonomic account of the fossil Pupilloidea from the Borgloon Formation. Four species were identified in the material: Pupoides gerardae (Karnekamp, 1990) comb. nov. (Pupillidae), Gastrocopta didymodus (Sandberger, 1858) (Gastrocoptidae), Vallonia sandbergeri (Deshayes, 1863) (Valloniidae), and Vertigo ovatula (Sandberger, 1875) (Vertiginidae).
Key words: Atuatuca Formation, Gastrocoptidae, micro-CT, Pupillidae, Rupelian, Tongeren Group, Stylommatophora, Valloniidae, Vertiginidae.
---
Redescription and range extension of two carnivorous micro-snail species of the genus Sinoennea (Gastropoda: Streptaxoidea: Diapheridae) from northeast India
Das, N. K., Páll-Gergely, B. & Aravind, N.A.
Abstract
This paper provides new records and redescribes two carnivorous micro snail species, viz., Sinoennea austeni (Peile, 1929) and Sinoennea vara (Benson, 1859), belonging to the family Diapheridae. Redescriptions are based on shell morphology and include ecological notes and new localities including the first record of S. austeni in 92 years. While S. austeni is endemic to Northeast India, S. vara has been recorded from Bhutan and Northeast India.
Key words: Shell morphology, taxonomy, hotspot, land snail, carnivorous snail, ecology, Mizoram
---
Short Communication
Frederick Richard Woodward – Additions to bibliography and new taxa
Kabat, A.R.